03.09.2021
Affekti, fiilis & emootio
Kaikille tuttuja tunnetiloja, mutta mitä eroa niillä on? Onko kysymys akateemisesta hiustenhalkomisesta vai tarpeellisesta jaottelusta, jota ilman on vaikea sanoa mitään spesifiä meidän ihmisten käyttäytymisestä? Kallistun jälkimmäiselle kannalle. Syy alla.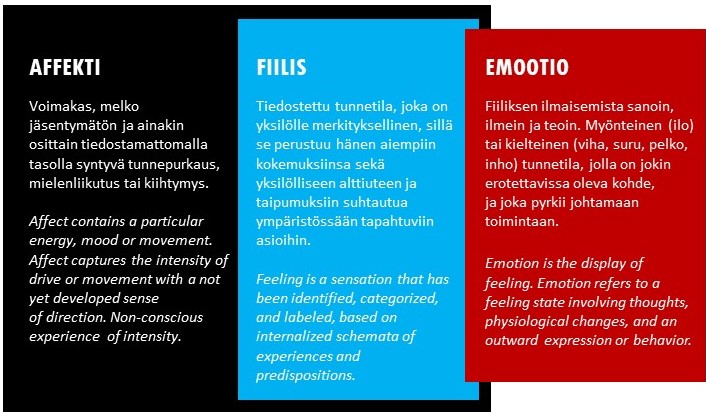 Englanninkielisissä määritelmissä hyödynnetty seuraavia lähteitä:

Ekman, P. (1992). Are there basic emotions? Psychological Review, 99(3), 550–553.
Massumi, B. (2002). Parables for the Virtual: Movement, Affect, Sensation. Duke University Press, Durham, NC.
Papacharissi, Z. (2015). Affective Publics. Sentiment, Technology, and Politics, Oxford University Press, New York, NY.
Schouse, E. (2005). Feeling, emotion, affect. M/C Journal, 8(6).